SUNDAY 20TH MAY
£1
TIME: 4.15AM – 5AM
VENUE: GREENGATE SQUARE
APP PROMO CODE & RESERVATIONS AVAILABLE FROM 1st MAY

Limited places.
DAWN BIKE RIDE 'MOBIKE SUNRISE'
Mobike and Not Quite Light invite you on a dawn bike ride through the streets of Salford at dawn.
Imagine being cyclist in the heart of a city, free of cars. This is pretty much what it's like at 4.15am, so you will have the streets to yourselves. Join us on a 45 minute ride exploring Salford as you will rarely see it, traffic free, with birdsong, not engines, making all the noise.
Grindsmith coffee pod on Greengate Square will be open especially early for the bike ride…
THE ROUTE:
We will meet at Greengate Square ( the Grindsmith coffee pod will be opening early to serve coffees and pastries ).
Then we will head down Chapel Street to Peel Park on the Crescent, past The Meadow and onto Lower Broughton. After this the route goes back up to Blackfriars and into Greengate via Gravel Lane, before arriving back in Greengate Square. The ride lasts about 30-40 minutes and is about 4.5km long.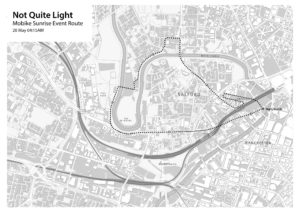 Simply download the Mobike app ( £1 ), enter the special #NQLWeekend promo code, and then you will receive 5 free rides, including this one. Promo code and reservations available from Wednesday 18th April, 2018