BACK ST. GEORGE'S ROAD 6.31AM – It rains a lot in Manchester, or so we become programmed to believe. Water follows our Mancunian lives each and every year, washing the streets and buildings. But not the cars it seems. I'd found the great American car wash by accident, and have never yet seen it in any other state than behind a barred gate and utterly shut.
I'd love to know what, in particular, makes it an American car wash. Is there some great American dream incorporated into the experience? Away down the street several cars arrived, and people sat in them for as long as they could, delaying the start of their work in the small brick office next to them. Whatever job it was they had, I suspect it wasn't in their thinking at infant school.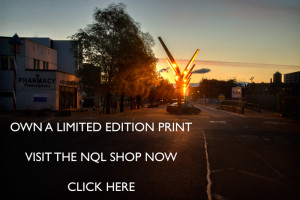 COPYRIGHT BELONGS TO SIMON BUCKLEY PHOTOGRAPHER. NOT TO BE USED FOR COMMERCIAL GAIN AND NOT TO BE PRINTED. ALL USEAGE TO BE ACKNOWLEDGED.