Canal boats traditionally travel at 4 miles per hour, which roughly equates to the speed of a brisk walking pace, and this significantly determines how the waterway is experienced. It allows us time to observe, whilst travelling, in a way often lost to us in the modern era. It's also a constant thread back to our ancestors, who also would have journeyed along the Bridgewater Canal with the same measured progress.
Over the four seasons of the year, I'll be capturing Salford's original canal through a series of photographs, films and writing. I'll examine the Bridgewater Canal in Salford over a 4 mile stretch as it is now, observing the clues from its past and the reality and relevance of its presence in our lives today. Each season will be assigned a different mile.
WORSLEY – SPRING
The second section of my project exploring the Bridgewater Canal in Salford brought me to the area around Worsley, where the canal, because of iron ore seeping out from the mines, is famous for being the colour of a bad fake tan.
When Queen Victoria came to visit in 1851 there was an unsuccessful attempt to dye the water blue, to try and disguise the pollution, perhaps denying the purpose for the canal's very existence.
If you come to Worsley today, it's a garden suburb, with the nearby motorway bridge speeding commuters to away to their labours, and this makes it almost impossible to imagine the area as an industrial powerhouse. In modern times the village has become, for people living in inner Salford, somewhere to escape to, whereas, for their mining ancestors it may well have been somewhere to escape from.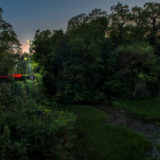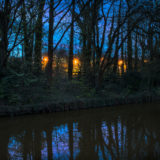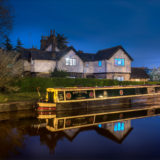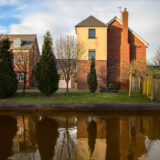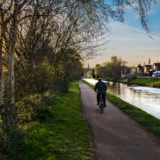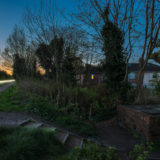 The banks of the canal here are now lined by luxury housing. The gentrification started in 1903 when the Earl Of Ellesmere saw the chance to move operations further afield so he could build houses for more profit.
As you glide along the water, you can see, by the cars, that the new industries of Manchester and Salford are far more rewarding for the current inhabitants of this area than for their predecessors. The houseboats, that rest gently in front of the new estates, have had names such as Steadfast and Lord Layabout proudly painted on their outsides, suggesting a chosen lifestyle in complete contrast to the barges used for industry.
I wonder, watching people leave their glossy front doors to travel to work, what names they would paint on their exterior walls…