CAR PARK, DUCIE STREET, 6.33AM – This morning, the first after the Easter holidays, I was awoken not by my alarm but by an industrious bird sensing dawn at 4.55am. There was a thin but effective mist hovering above the streets, and anyone that was out seemed to have bent down their heads, as if the weight of the fog was too much on this first day back to work.
The sun was due to have risen at 6.33am but seemed reluctant to break through the blanket enshrouding the city. Canada geese rose steeply from the canal side next to me and shrieked into the morning sky and flew away. A car I couldn't see sped down a nearby street and screeched to a sudden halt and then fell silent. I looked at the grey, empty car park in front of me, and the lightless mill building in the distance, and wondered where everyone was.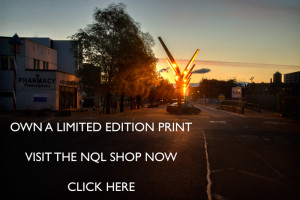 COPYRIGHT BELONGS TO SIMON BUCKLEY PHOTOGRAPHER. NOT TO BE USED FOR COMMERCIAL GAIN OR TO BE PRINTED. ALL USEAGE MUST BE ACKNOWLEDGED.