CATHEDRAL APPROACH, 5.52AM
When I opened my front door on this morning I actually flinched. I wasn't expecting a thick mist, and the pool of light, spread by the fog around the street lamps, made the familiar jar my expectations, as if I'd entered the wrong world.
In many ways I couldn't have wished for better weather to start this new version of Not Quite Light. The work will take me across the Irwell into the cities of Manchester and Salford and so, to see them smudged together, as if a thumb had pushed itself through a charcoal drawing, seemed apt to me. I liked that the boundaries were indistinct and visually irrelevant. The solid Victorian architecture melded with gargantuan new developments lying beneath Cathedral walk, as if Valette had stumbled across Steampunk, and a smeared future lay indistinct in the early morning light.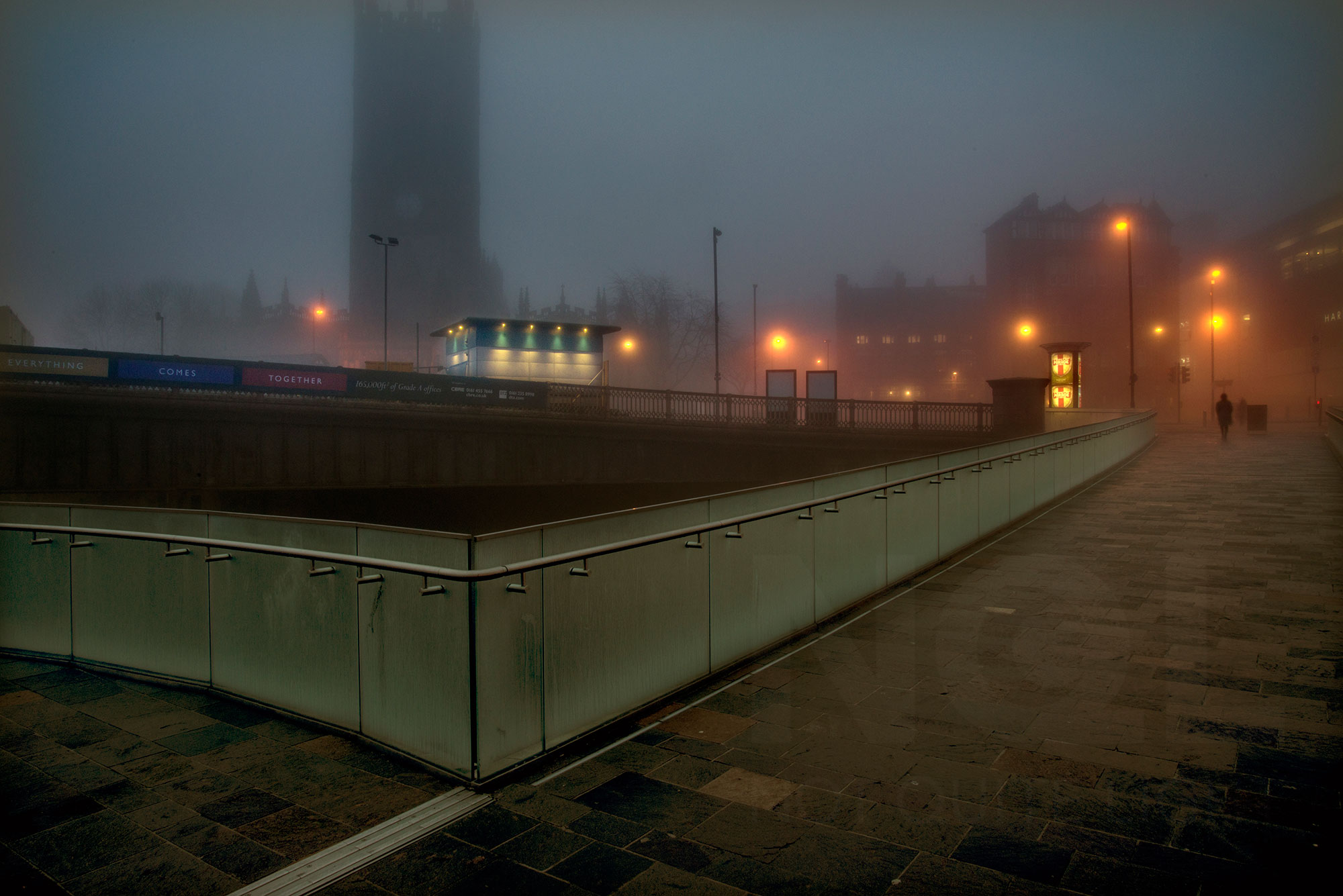 The sounds of this new venture were intense in the rounded acoustics. Geese appeared to have to honk louder, perhaps because they understood that they were calling out to two cities as they rasped their warnings from the river. Birdsong around the Cathedral was louder than I'd experienced it in Ancoats, and the punching clunk of metal from trucks, readying themselves to feed the ravenous construction sites, was enough to startle the few passers by on their way to work at this unearthly hour. I stood at the bend of the Irwell, as Chapel Street meets Victoria Street, and gazed at two cities that would say they are chasing success, and not merely escaping failure.
Dawn felt out of sync. I could sense it happening under the quilted light, but it remained as hidden as a recluse behind thick net curtains. The lights distinctly went off in Manchester first, with those in Salford remaining at glow for another ten to fifteen minutes. Was Salford any darker than Manchester at this point, less in need to engage in the frantic energy of its younger sibling, or simply less ready to embrace a new day?
As I made my way back to the car, under the railway bridge at Blackfriars, a couple of men waited impatiently for a third, both readied for exercise, but unable to begin. They were still there as I departed, and the sun was beginning its fightback with the gloom.
THIS PRINT IS FOR SALE AS A LIMITED EDITION  – CLICK HERE
COPYRIGHT BELONGS TO SIMON BUCKLEY / NOT QUITE LIGHT.
IMAGE NOT TO BE USED WITHOUT PERMISSION