CHAPEL STREET, SALFORD, 3.42AM
I haven't read much about it but, apparently, having two sleeps during the night used to be normal. Now that dawn is around 3am I've had to start sleeping at around nine-thirty, get up to do my work at about two, and then go back to sleep at around six. The consequence of this is that my mind is swamped by vivid dreams, often about my life already lived melding awkwardly with the one I now lead. I rarely awake feeling comforted, more as if I've existed in a parallel world.
Uneasy after another early night chimera, I was unsure where to go when I set off, but headed towards Chapel Street as if someone was calling me towards it. The sky above was clear and deep blue, and it was warm enough for me to wear only a t-shirt, causing me to feel that I was in an artificially lit film set rather than on the actual streets of Salford.
Chapel Street is to be the neural pathway between Salford and Manchester. In the distance blinking lights, like indicators on an interactive science exhibit, drew the eye past the skeleton of Ye Olde Nelson pub and to the new wipe clean buildings of the two cities, Siamese twins bickering over which direction they should go in. The Beethan Tower, like Sauron's Tower, watched over everything.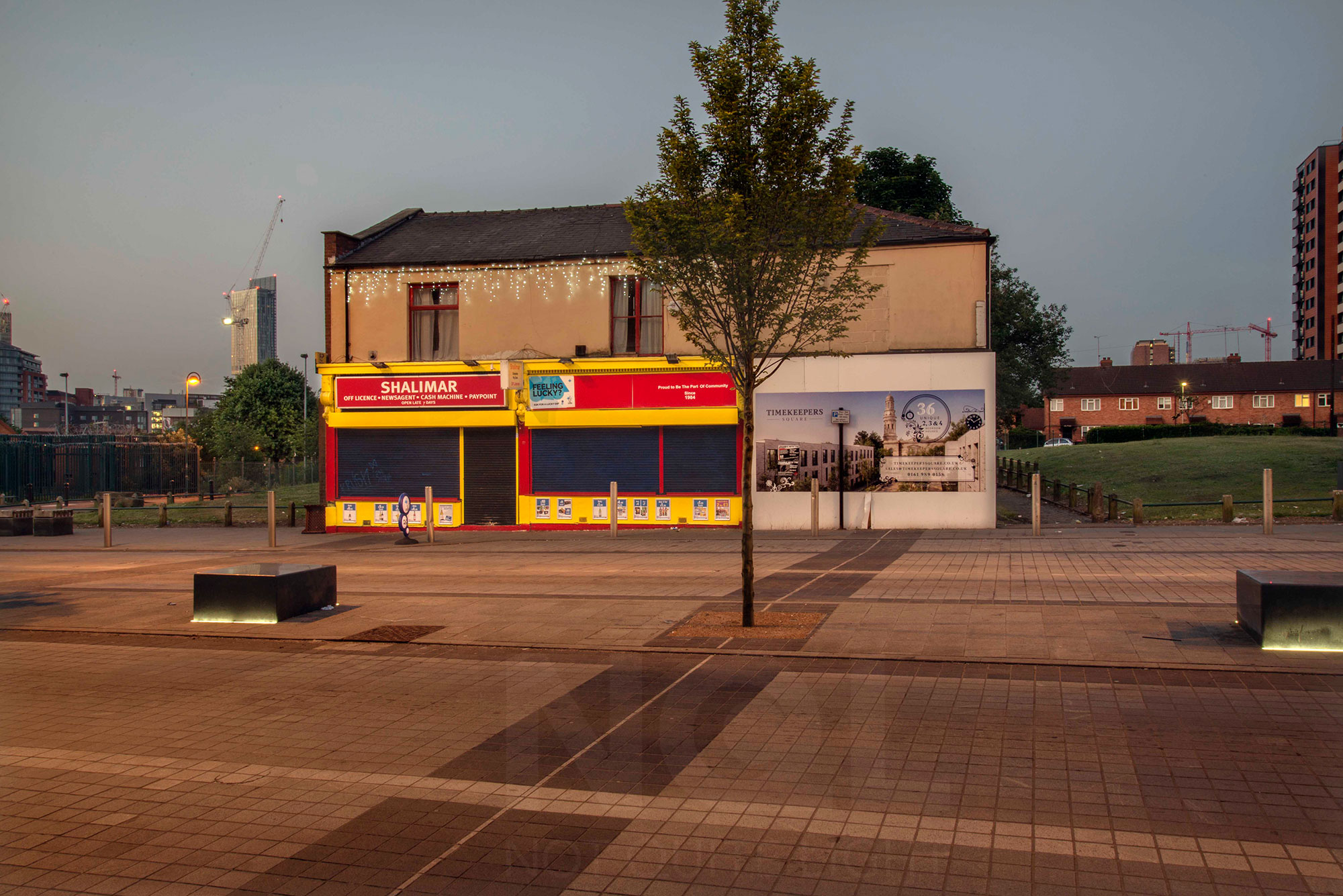 Before me was the office for a development christened Timekeeper's Square. There was a large clock outside which seemed to have no sense of time. Thin blue lights, like light sabers, were embedded in the pavement and crisp, white fairy lights hung outside the newsagents next to the hoarding that proclaimed the wonder of the new development.
The meagre traffic, mostly taxis, slowed down as it passed me by, like I was an accident on a motorway. A church bell rang behind me, and a young man walked past with a traffic cone on his head as if he always wore one, and oblivious to my presence. A cat appeared and stared at me until I had to look away.
Night was fading fast, bringing forth details of the old buildings, with their extravagant stone carvings and solid decisions as to what they were above self important doorways. Laughter escaped from behind the windows of a pub in Bexley Square as I returned to my car, but I could see no lights on. As I waited at traffic lights a sleek Magpie hopped confidently into the centre of Chapel Street to peck at a speck of carrion. Quickly bored, it glanced towards the decrepit Nelson and flew onto its roof. The lights changed to green and I drove away.
TO BUY LIMITED EDITION PRINTS CLICK HERE
COPYRIGHT BELONGS TO SIMON BUCKLEY PHOTOGRAPHER. NOT TO BE USED FOR COMMERCIAL GAIN OR TO BE PRINTED. ALL USEAGE MUST BE ACKNOWLEDGED.