CHATLEY STREET, CHEETHAM HILL 5.26AM – I've always wondered what was in the minds of the Victorian men that designed, and then constructed, the strange phallic tower that rises up from the centre of Strangeways Prison. Maybe the architect, Alfred Waterhouse, was obsessed with reminding the incarcerated criminals within of their weakness and powerlessness.
Today, the surrounding streets see men slope past in their shiny cars, looking for women that will gratify their needs at a price that can never satisfy either of them. If they saw beyond the rising lump in their trousers they'd notice old businesses, now decayed, where other men strove for a lifetime to prove their worth through trading garments and goods with the world.
I've never felt uneasy during my project, but the time spent photographing here at dawn caused me to shrink and seek to protect myself. Cars slowed unnecessarily, headlights bright and threatening, and hooded youths whisked past far too close on their bikes. Around me are gone to seed buildings peddling wholesale items destined for the cheaper end of retail. Chatleys is clearly very eager to let big men know all is not lost.
Cheetham Hill is next on the council's ambitious list to be regenerated, and that will no doubt bring another happy ending.
OWN YOUR OWN LIMITED EDITION PRINT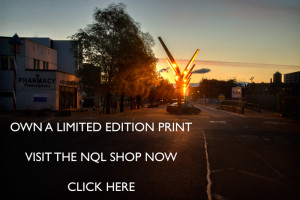 COPYRIGHT BELONGS TO SIMON BUCKLEY PHOTOGRAPHER. NOT TO BE USED FOR COMMERCIAL GAIN OR TO BE PRINTED. ALL USEAGE MUST BE ACKNOWLEDGED.