DUCIE HOUSE, LAYSTALL STREET, 6AM – Ducie House used to be where the legendary Home nightclub banged out its tunes, and where I was once refused entry for not wearing "VIP" shoes. It was the early 90s hub for creative talent in the city and housed numerous designers, magazines and other young, unruly Mancs plotting to rule the world from their Manchester base.
Its ground floor is now occupied by Urban Splash, planners of New Islington, a work in progress, just across Great Ancoats Street. Beyond the vacant advertising board, the city buildings around Piccadilly appeared to me as if they were a projection. A solitary man, well dressed and in his twenties, stooped his head as he passed my camera and apologised. He walked quickly towards the corner and disappeared from view, leaving only his footsteps for me to listen to in the quiet air.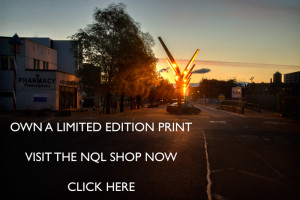 COPYRIGHT BELONGS TO SIMON BUCKLEY PHOTOGRAPHER. NOT TO BE USED FOR COMMERCIAL GAIN OR TO BE PRINTED. ALL USEAGE MUST BE ACKNOWLEDGED.