EMPIRE TAKE-AWAY, EMPIRE STREET 5.50AM – I'd gone to drive around Cheetham Hill the previous evening, to research for the shoot in the morning. It had been the day of the Manchester derby and United had won against a City team in decline. There were plenty of young lads still out celebrating, drunk and in small groups. The sky was as red as the Stretford End, and I watched cars patrol the streets, men in the driving seat looking for prostitutes that were being kept too busy on a Sunday night.
The following morning the sky was blue, and all around me was quiet. Steam as white as the smoke from the Vatican blew out of Holt's brewery and reminded me of how little industry was still left in a city that was the first of its kind in the world. The Empire Take-Away was long closed and I wondered what it must have served, what it had been famous for. A hooded youth rode too close to me on his a bike and, in the distance, the Beetham Tower, towards Old Trafford, could be seen reflecting the morning sun. And then lights went out.
YOU CAN OWN A LIMITED EDITION PRINT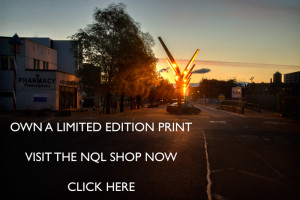 COPYRIGHT BELONGS TO SIMON BUCKLEY PHOTOGRAPHER. NOT TO BE USED FOR COMMERCIAL GAIN OR TO BE PRINTED. ALL USEAGE MUST BE ACKNOWLEDGED.