HILTON STREET, MANCHESTER 4.31AM – It had rained in the early hours of the new day, and the roads were glistening with colour as fresh as a newly woven magic carpet. Any birdsong was drowned out by the raucous calls of girls and boys dressed in their finery, still away with the fairytale world of escape afforded them by the Manchester potion of music and drink.
Dreamy eyed couples kissed at bus stops, desperate boys leapt in front of my camera and knots of friends stuffed themselves into Freshbites, determined to fill their bellies with enough fat and bread to assuage the hangover that would arrive once the spell of alcohol had evaporated.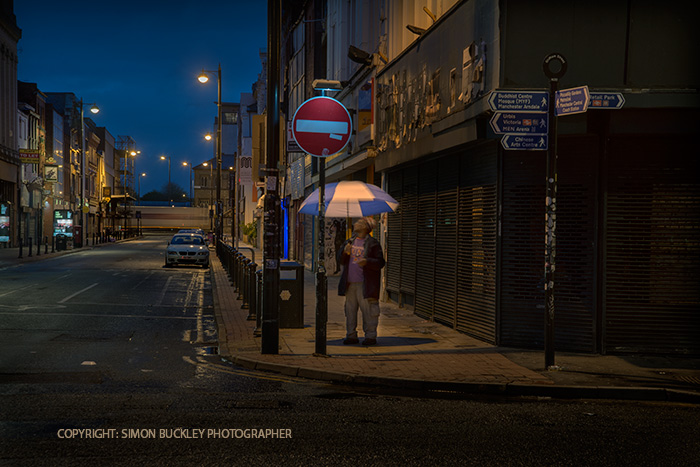 Then, above the death rattle engine of the black cabs, I heard a mouth organ. It was the same tune on loop, frantic and basic. As I looked the man playing put away the instrument and picked up a large umbrella and opened it. He looked up, as if expecting to float away and then, when that didn't happen, closed it.
He came to where I was and told me he was called Zorro, from Jamaica.
"Will you play for me" I asked.
He said he would, but for £3. I scrabbled around in my bag, handed him the coins, and he began a song in which he inserted my name and more frantic blowing on his harmonica.
He finished and drifted away, his umbrella raised again. A street cleaner began the job of making the streets appear as if the previous few hours hadn't really existed. A party started in one of the nearby apartments.
I heard someone shout "Do the splits" through an open window. And then the lights went out.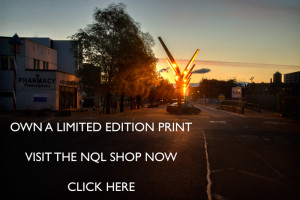 COPYRIGHT BELONGS TO SIMON BUCKLEY PHOTOGRAPHER. NOT TO BE USED FOR COMMERCIAL GAIN OR TO BE PRINTED. ALL USEAGE MUST BE ACKNOWLEDGED.