ST.MARY'S PARSONAGE, MANCHESTER 3.29AM
There is no more accurate an alarm than nature. The first, single call of dawn this morning was sharp and distinct, and I actually saw it happen. A blackbird, unaware that I'd snook down a small alley off St. Mary's Parsonage, and onto a paved area that looked over the Irwell from Manchester, was perched on spiked rails to my right, and was signalling the arrival of a new day. When I turned to look it glanced back, irritated, and flew off further down the river.
There was a sifted drizzle in the air, its fine mist causing an almost Autumnal atmosphere. Across the dark water was the Lowry Hotel, elegant and self assured. It's commonly referred to as Manchester's first 5* hotel, even though it's in Salford, yet again highlighting that Manchester's biggest talent is appropriation. Next to it, a car park was bordered by a hoarding that proclaimed itself to be "The best development in Manchester." There was very little left of the old city in my eyeline. I could see the Cook Street brewery, and the old walls confining the river, but everything else was new.
Salford has quietly set about re-inventing itself, with large areas of the old city now demolished, with office and apartment blocks taking the place of prisons and factories. Luxury used to be a word I heard my nana attach to chocolates at Christmas, but my kids attach it to flats they can't afford.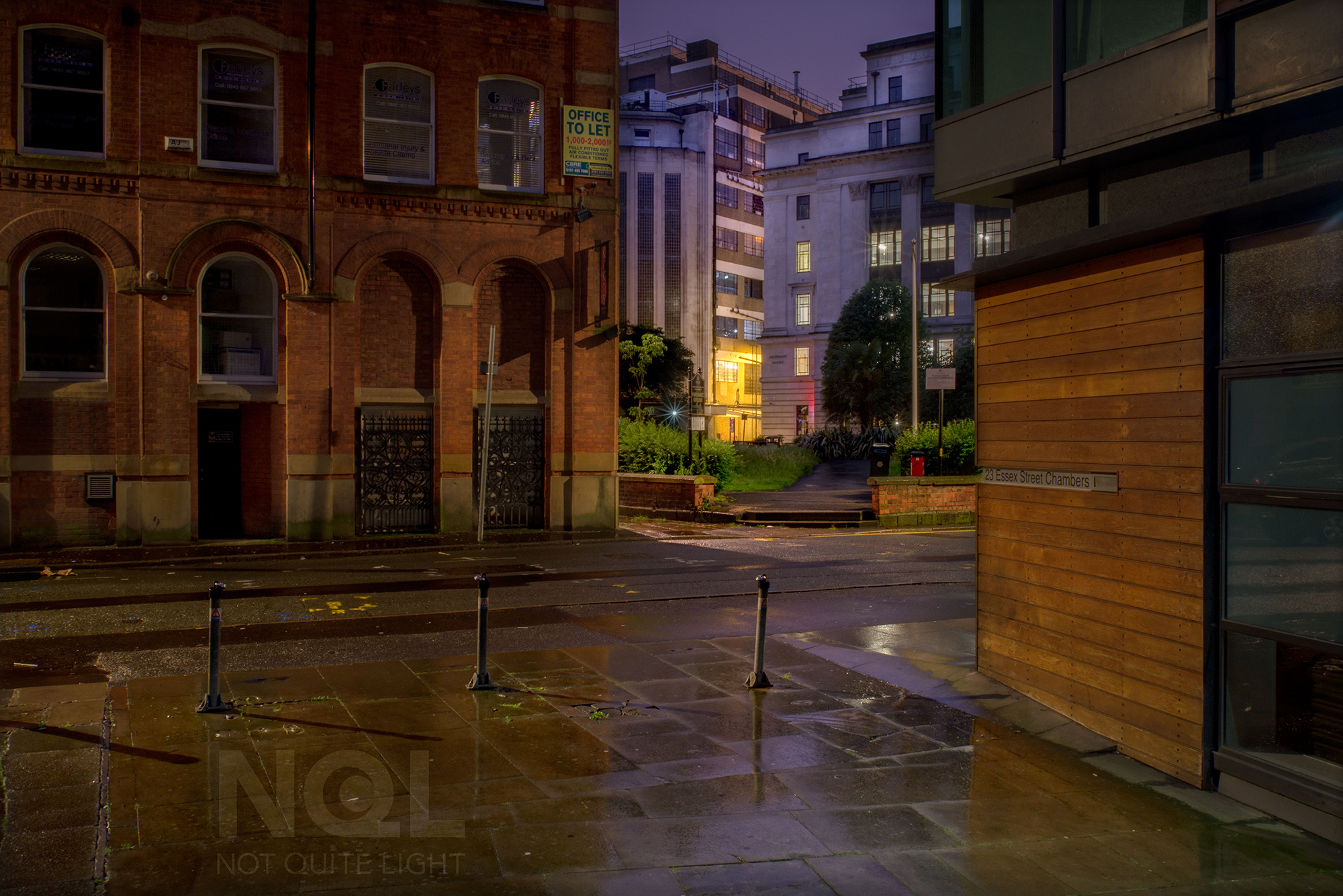 I turned back to Manchester. Before me now were layers of architecture – Victorian, the Art Deco magnificence of Kendal's across Parsonage Gardens, and modern offices with fashionable wood detail. Several clumps of indifferent stragglers from Parklife festival passed me as I worked. A man taking a photograph at dawn, down a dark passage, holding a Comic Relief umbrella above his head was banal compared to what they'd seen in the mud of Heaton Park that weekend.
And then a young, bearded man stopped right in front of me, apparently perplexed by my existence, and just stared for nearly a minute.
"You're handsome, but you're not a building" I said, hoping that he'd finally move on.
"I'm not a building?" He replied, confused. "But I want to be, I am…"
His friend, Mike, tried to bring some sense to the situation "So, man, do you like have to book a space to be here?"
"No, Mike Man, you can just turn up." I said.
"So anyone can occupy this space. Wow" he said softly as he walked away.
I retreated back to the Irwell and, as the lights began to go off, I again looked over to the new Salford. No, Mike, I thought, not just anyone can occupy this space.
TO BUY LIMITED EDITION PRINTS CLICK HERE
COPYRIGHT BELONGS TO SIMON BUCKLEY PHOTOGRAPHER. NOT TO BE USED FOR COMMERCIAL GAIN OR TO BE PRINTED. ALL USEAGE MUST BE ACKNOWLEDGED.