LEVER STREET, MANCHESTER 6.00AM – On the streets at dawn there is a relationship to the space which feels highly personal, a temporary sense of ownership even. Without the distraction of traffic and people and purifying daylight there exists an awareness of detail often absent without the collusion of shadow and streetlight.
Also, and unbeknownst to them, I've begun to develop a relationship with the workers of the morning, the hidden heroes of our city, who have become familiar to me as I watch from corners and doorways whilst they clean or protect the pavements and buildings that we all later use. In the still of a darkened backstreet I welcome the clunk and moan of a re-cycling truck, or the low hum of a street cleaner, sounding like a slow motion electronic toothbrush, knowing that life is close by and that the city is once again being readied for another day.
Travis Bickle, in the film Taxi Driver, wrote in his diary "Thank God for the rain which has helped wash away the garbage and the trash off the sidewalks." We certainly have the rain in Manchester and often, in the Northern Quarter, there's plenty of trash. But it's humans that do the cleansing here, not God and his precipitation.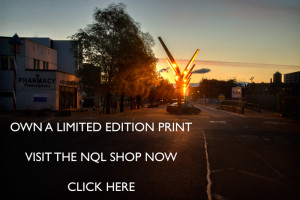 SEE MANCHESTER AT DAWN WITHOUT HAVING TO GET UP…
COPYRIGHT BELONGS TO SIMON BUCKLEY PHOTOGRAPHER. NOT TO BE USED FOR COMMERCIAL GAIN OR TO BE PRINTED. ALL USEAGE TO BE ACKNOWLEDGED.