LUDGATE HILL 6.03AM – I've always felt that the soul of Not Quite Light lies in the streets around Angel Meadows. I keep being drawn back there, fascinated by the history of that small patch of ground that contains the bodies of 40,000 Mancunian ancestors, and that also inspired the work of Engels and Marx. There are buildings and towns that trade on ghosts and hauntings but never have I felt fearful of being so close to the bones of folk that suffered untimely and miserable deaths.
Maybe they lie in peace, these victims of overwork and poverty, happy that the current workers crammed into the new flats nearby have light and warmth before their exertions begin. Maybe they're just dead, and no spirit endures. Cars pull into the nearby car park, and the occupants head quickly away into the city centre, towards the bloated shape of the new Co-op building and leaving me to stare at a pure, single light and a Give Way sign.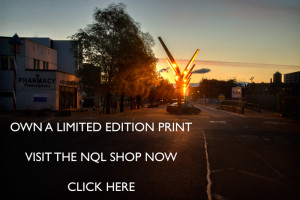 COPYRIGHT BELONGS TO SIMON BUCKLEY PHOTOGRAPHER. NOT TO BE USED FOR COMMERCIAL GAIN OR TO BE PRINTED. ALL USEAGE TO BE ACKNOWLEDGED.