OLD MILL STREET, NEW ISLINGTON, ANCOATS 4.16AM – I've recently returned from North Carolina where people were astonished to hear, over an honest glass of Moonshine, that Manchester's economic fortunes were so badly affected by the American Civil war. I told them about the statue of Abraham Lincoln, and the principled boycott of southern cotton that led to real hardship in the city.
I also met a man who'd been part of the team that developed GPS mapping, who now ran an orchard in the Blue Ridge mountains, and who was a font of tales about the gold rush that happened in the nearby valleys and rivers.
Back in New Islington, in Ancoats, I felt a sense of gold rush and hardship. Back in the day Urban Splash rode into town high on spirit and with ambitions as grand as a cowboy's buckle but, just a decade on, the tumbleweed and dust is as obvious as the lone chimney amongst the fancily named new apartment blocks, after an American bank shot down the world economy. And again Manchester felt the effects.
This morning, young men are returning home after a long night in the city, a piercing alarm on a refuse truck will not be silenced, and the wind gusts in from the West down the open street.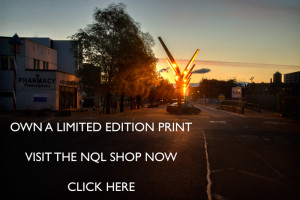 COPYRIGHT BELONGS TO SIMON BUCKLEY PHOTOGRAPHER. NOT TO BE USED FOR COMMERCIAL GAIN OR TO BE PRINTED. ALL USEAGE MUST BE ACKNOWLEDGED.