OLD MILL STREET, 4.27AM – Old Mill Street, where the Ancoats Dispensary still exists, is at one edge of my project, the other being Strangeways. From redemption to restitution I suppose. This area, once the industrial core of Manchester, is now known as New Islington and was supposed to be the vanguard of urban development on this side of the city. And then the recession came.
This particular morning the sky was clear, and the colours rich. It reminded me of the pictures you see of towns in the mid-west of America. Geese honked loudly from the artificial pond that was slightly hidden from view behind safety fencing.
In the distance a figure slowly approached. It was a woman, in her late fifties and she was using a shopping trolley walker for support as she made her way towards me. She came to a rest outside the new pharmacy and sat down on a down a bench.
"Are you photographing the stars?" she asked.
I explained what I was doing, and asked why she was up so early.
" I've just finished work and missed my bus. On my way back to Edge Lane. My name's Brenda."
She then turned away from me until, after 5 minutes or so, she got up to carry on her trudge home and said
"It'll be lovely, Ancoats, once it's finished"
When I next looked up from my camera she'd somehow managed to disappear, her steady progress taking her further and faster than I could have thought possible.
That's Brenda, sitting down. Was she a ghost?
OWN YOUR LIMITED EDITION PRINT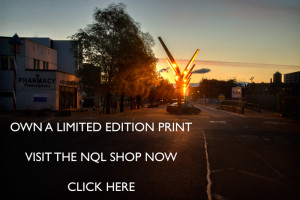 COPYRIGHT BELONGS TO SIMON BUCKLEY PHOTOGRAPHER. NOT TO BE USED FOR COMMERCIAL GAIN OR TO BE PRINTED. ALL USEAGE MUST BE ACKNOWLEDGED.