OLDHAM ROAD, 4.57AM, ELECTION DAY – The alarm went off at 3.50am, and the birds were already chattering excitedly at the new dawn, like children up too early on their birthday. The sky hung darkly above, revealing patches of blue that reflected in puddles across empty streets and pitted car parks. The soft whirr of a milk float was all that intruded on the songs being whistled around me.
I'd decided the night before on what I was going to photograph. In my mind's eye I could see the picture, the narrative of the traditional and the new laid out before me in simple terms. However, the light of the early morning changes expectations. Things just don't look the same, and it's only in that particular illumination can it be seen if the photograph will work.
It also reveals new scenarios, that appear as the darkness leaves under the cover of the street lamps. I thought I was done, satisfied with my choice, when I looked further to my left and saw, framed by red brick, a view that I hadn't noticed before. It was fresh and vibrant, but entirely reliant on the varying colours for its drama and tension, as the reflections on the shiny new building changed from red to green. The street lamps seemed to be linger, as if doing all they could to help me engage with this fleeting opportunity. I clicked the shutter, knowing I'd caught the moment, and just a few minutes later the lights went out and the moment had gone.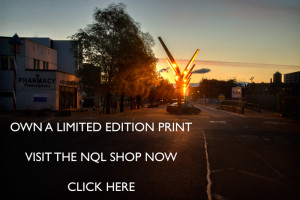 COPYRIGHT BELONGS TO SIMON BUCKLEY PHOTOGRAPHER. NOT TO BE USED FOR COMMERCIAL GAIN OR TO BE PRINTED. ALL USEAGE MUST BE ACKNOWLEDGED.