THOMAS STREET, 4.42AM – It was my first time photographing on a Saturday morning. The sodium lamps, neon and first gasp of dawn daylight created a filmic atmosphere, causing the buildings to look like the grand vision of a set designer, and the people in them extras, sent out on cue by a director eager to create the illusion of reality in this strange hour.
This area of Manchester has, for centuries, been where people have come for pleasure, to escape the realities of work and endeavour which the city is famed for, and people are loathe to leave behind the fairy tale notion that anything is possible until the lights pop off, breaking the spell, and the taxis sweep the streets in order to return the party kings and queens safely home.
This weekend morning the magic lingered, with an overcast sky fooling the streetlights into staying on beyond the time they would normally go out. A young couple were coming down the street towards me. She was short and slightly round, he tall and athletic. She wore golden pumps and had bleached blond hair. She grabbed his baseball cap as they walked and placed it on her head. It fitted perfectly and she smiled.
"You've got a Disney head" he said.
"What do you mean?" she replied.
"You know, like a Disney head"
They disappeared round the corner, and the night truly lifted revealing a deep blue sky. It was time to go home.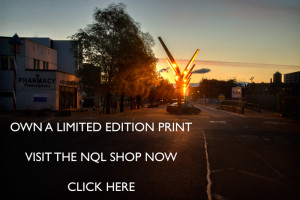 COPYRIGHT BELONGS TO SIMON BUCKLEY PHOTOGRAPHER. NOT TO BE USED FOR COMMERCIAL GAIN OR TO BE PRINTED. ALL USEAGE MUST BE ACKNOWLEDGED.