DERBY STREET, CHEETHAM HILL  5.15AM – At 4AM, which is now my waking up time for Not Quite Light, I feel like death and it is only the thought of life that takes me from my tomb and out into the day. It was dark and felt as dawn could never arrive. Even the birds seemed reluctant to announce dawn this morning, as the consistent rain spattered onto the pavements.
I made my way up towards Cheetham Hill to an area I've decided to brand the religious quarter, due to the number OF mission churches that exist in between the wholesalers. I had little hope of taking a photograph as it was so wet, I couldn't think how to save my lens from the dollops of water coming at me. I still set up, and as the first patches of deep blue signalled the rising of the sun, the rain miraculously stopped, just for a few minutes, and I photographed "Jesus" on the side of the building. It was then that I noticed the church was To Let.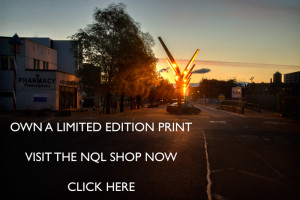 COPYRIGHT BELONGS TO SIMON BUCKLEY PHOTOGRAPHER. NOT TO BE USED FOR COMMERCIAL GAIN OR TO BE PRINTED. ALL USEAGE MUST BE ACKNOWLEDGED.