JERSEY STREET, ANCOATS 6.33AM – There's a sense of growing affection for Ancoats. No longer do people scurry from doorway to cab, fearful of being mugged, or "taxed" as I recently heard a Glaswegian refer to it. Ancoats is maybe the best of Manchester's efforts to reinvent itself. The area used to pulse with endeavour, power and anger but now, whilst it still gives sanctuary to its ghosts, it increasingly neutralises their presence.
Soon the streets around the dark brick buildings, glowing blood red in the familiar rain, will be no more threatening than a heritage park. Restaurants and cafes will open, apartments will prick the aspirational thumbs of young Mancs and the sinister spectre of industrial poverty will have been washed forever from the pavements. I like that the developers have decided to retain the old mills and warehouses. A city needs its heart kept alive and, on this wet morning, the spirit of Manchester glistened across the dark shadows.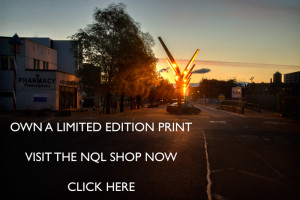 COPYRIGHT BELONGS TO SIMON BUCKLEY PHOTOGRAPHER. NOT TO BE USED FOR COMMERCIAL GAIN OR TO BE PRINTED. ALL USEAGE MUST BE ACKNOWLEDGED.