JUTLAND STREET, MANCHESTER 3.48AM – Jutland Street is perhaps the oddest street in Manchester. There seems to be no hill for it to have emerged from and yet there it is, steep as a Pennine and cobbled just like streets in the black and white memories of our grandparents.
I was perched at Jutland's summit under a Bible bright moon, that was defiantly refusing to leave the dawn sky above Piccadilly's modern structures. To my right two men scuttled down some steps and into the shadows of the canal basin. They soon reappeared, timing it so that one walked away first, spitting and casually checking his phone.
The clear blue sky gradually overcame the sensors of the street lights and a homeless man wandered towards the rising sun behind New Islington, his possessions stuffed into a large IKEA bag. A young lad then cycled by, dressed in overalls that could have been in the family for generations. His eyes were circled by dark grime on a pale face. He looked over his shoulder and called out "Will I be famous?".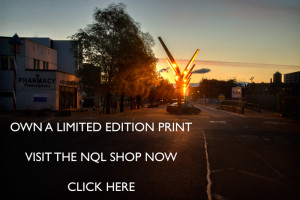 COPYRIGHT BELONGS TO SIMON BUCKLEY PHOTOGRAPHER. NOT TO BE USED FOR COMMERCIAL GAIN OR TO BE PRINTED. ALL USEAGE MUST BE ACKNOWLEDGED.