WATER STREET 7.07AM
Yet again the weather forecast had failed me. Rain spattered into my glasses as the clouds above surged into the distance, following an unseen agenda that all below would simply have to cope with. Beneath where I was standing, near the Victoria and Albert hotel, a million droplets strafed the Irwell, causing the gulls to twist and swirl as if trying to throw off an attacking fighter plane. A business man stomped towards his large BMW, frowning at the downpour, his uncreased jacket hanging limply over his upheld fist. In the dining room, through small windows, I could see waiting staff laying out breakfast, the length of an urchin's hope away from me.
I turned to look at the thing I'd come to photograph, a new railway bridge shared by Salford and Manchester along the Ordsall Chord. It had been expertly dropped into place the previous day, clearly by someone who'd found a good use for all those years in the arcades grappling cuddly toys with a metal claw. Rubber launches bobbed nearby and searchlights picked out the water's surface. The giant, arched structure, the colour of counterfeit Irn Bru, now curved across the backdrop of new high rise blocks over in Salford.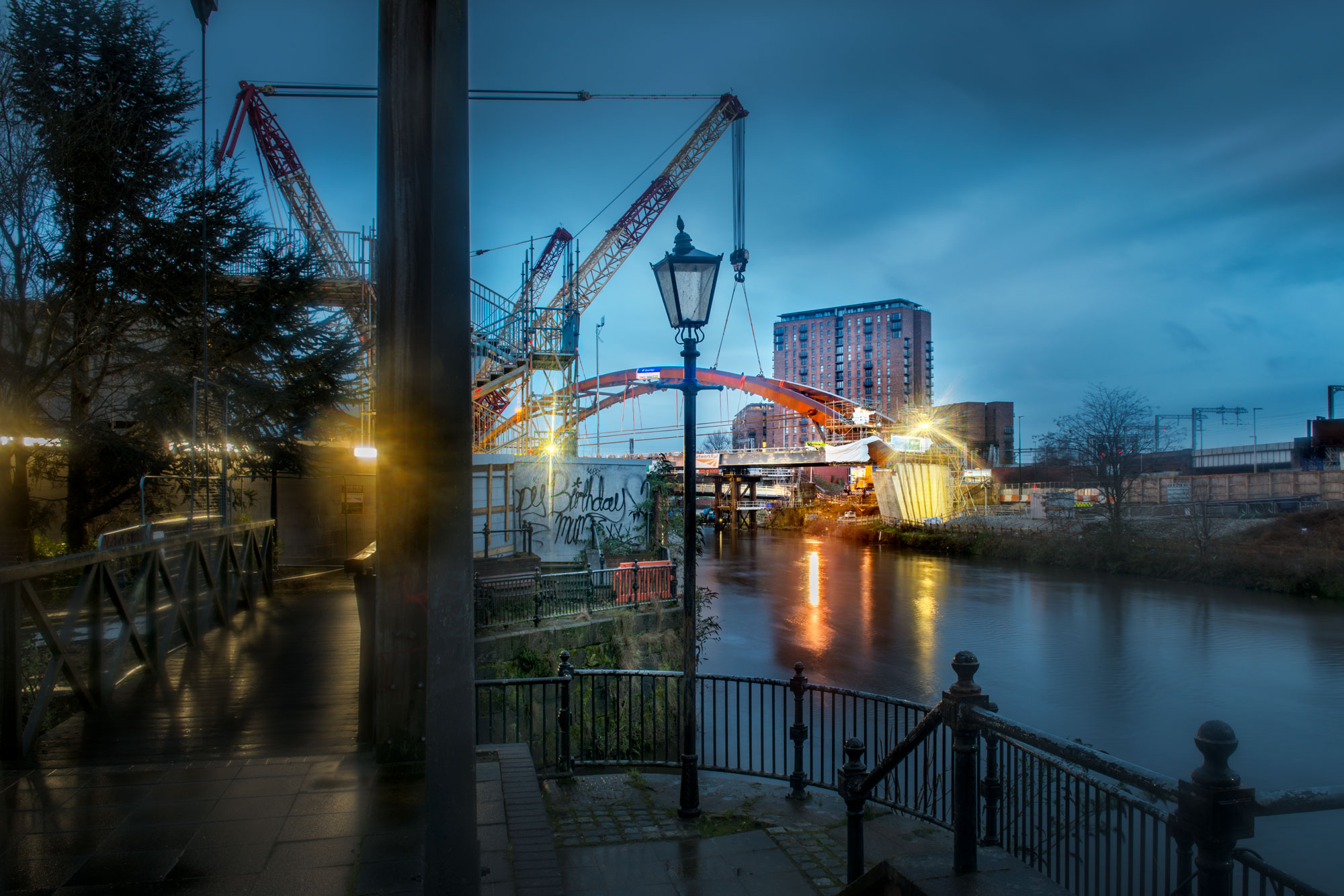 The Manchester side of the river still reeks of historical endeavour, of men pushing the boundaries of what they thought possible. I was on a small bridge that vaults the remnants of a canal that very few people have ever heard of, which quickly disappears underground beyond its rotting lock gates. Nearby is where the world's first passenger steam train set off to Liverpool, and peculiar staging points jut from the area near the old towpaths. There is still enough brick to remind anyone passing that Manchester was once a Victorian city. The ubiquitous Beetham Tower was the most modern thing in my eyeline. On the far side, Salford looks like a new town. Apart from the old viaducts that will carry the track between Piccadilly and Victoria, there is nothing but cranes and growing chunks of real estate.
I was surrounded by change. The current of the river, the regeneration of ambitions yet to succeed and the grand architecture of engineers and inventors. Beneath this past and future I felt somewhat helpless as I tried to keep my lens dry. Suddenly, from nowhere, a young man strode towards me, a baseball cap atop his head.
"Is there anywhere here that I can cross the river?" he asked in an accent indicating that he was not English.
"No," I replied. "You'll have to walk all the way round, they've closed the roads."
We both looked towards the new bridge, and then I pointed back towards the city centre.
"You have to go over there" I said.
For a moment he looked over my shoulder, as if I was hiding a secret crossing, and irritation crossed his features. But then he turned and walked away, taking the only route he could in the circumstances.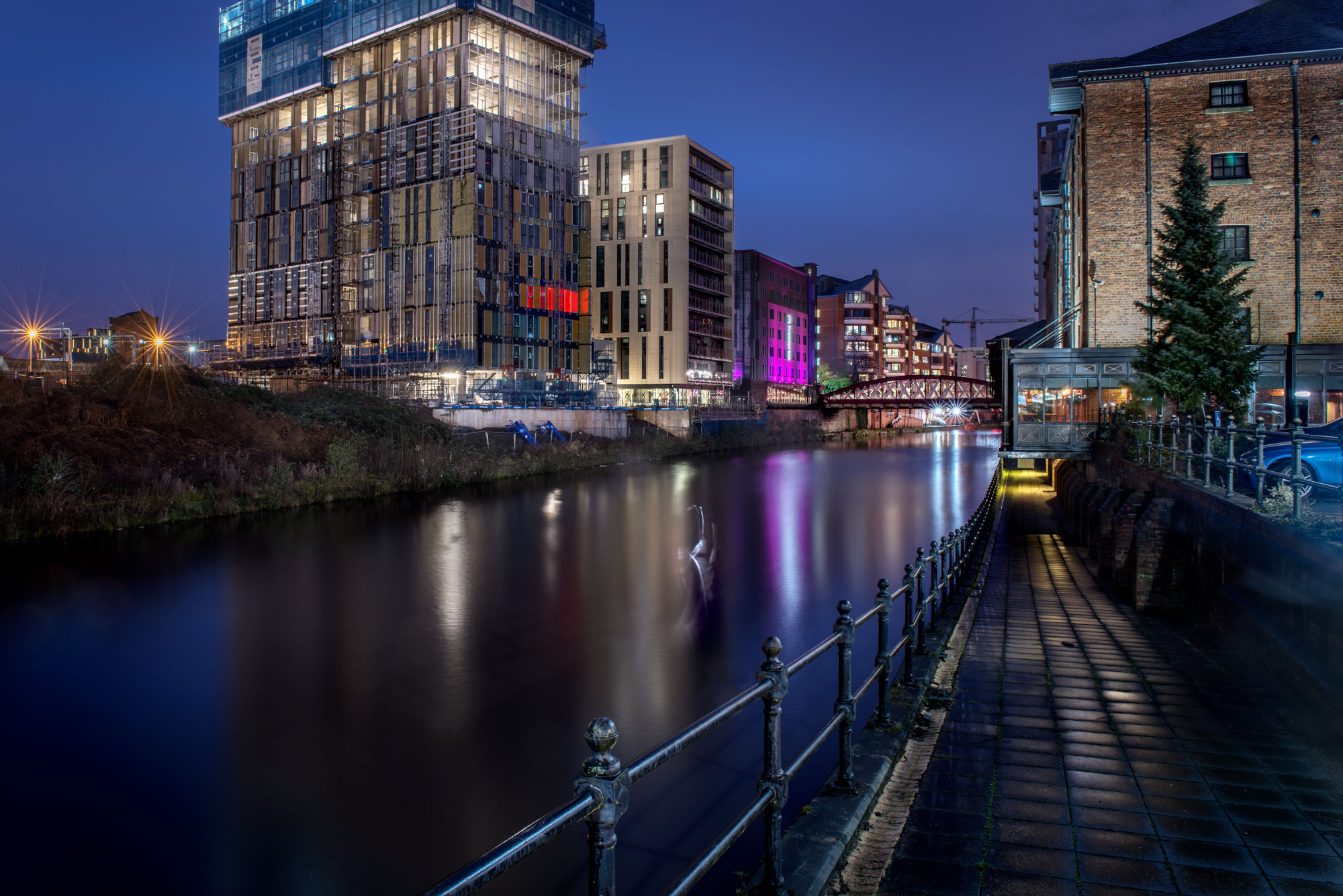 TO BUY LIMITED EDITION PRINTS CLICK HERE
COPYRIGHT BELONGS TO SIMON BUCKLEY PHOTOGRAPHER. NOT TO BE USED FOR COMMERCIAL GAIN OR TO BE PRINTED. ALL USEAGE MUST BE ACKNOWLEDGED.