RIVERSIDE, SALFORD, 5.28AM
Often I'm already en route when I decide where I'll go to photograph, simply following the course of fate and instinct to bring me to my destination. And, on this late summer morning, I fetched up at the River Irwell near Adelphi Street, along whose muddied sides human settlement is once again thriving. As I turned down neat, new streets, and came suddenly upon a footbridge, I realised how little I knew of the river's course once it had turned away from the city centre.
If I'm asked about living in Manchester – people never ask me about Salford – I'll find myself talking about the population, which I usually deem to be dynamic, before going on to discuss the goulash of architectural ingredients that fill our streets. I'm not sure, however, that I ever meander into conversational consideration of the Irwell, which so easily divides Manchester and Salford. I would suspect that citizens in other cities, with a large river coursing through, would at least reference it, and may even suggest a giddy list of things to do along the banks. But the Irwell? No.
And this is a river that has existed for thousands of years where, in the skirting meadows, evidence of habitation sucks us back to the Neolithic Age. It almost feels as if, in late 2015, the river had to consciously and dramatically burst its banks, like a revolting workforce, to make its presence felt and force the local inhabitants to take note of its power and latent magnificence. Since then I've noticed of an increased avowal of its existence, and the raised profile of plans which will divert the Irwell into mainstream city life.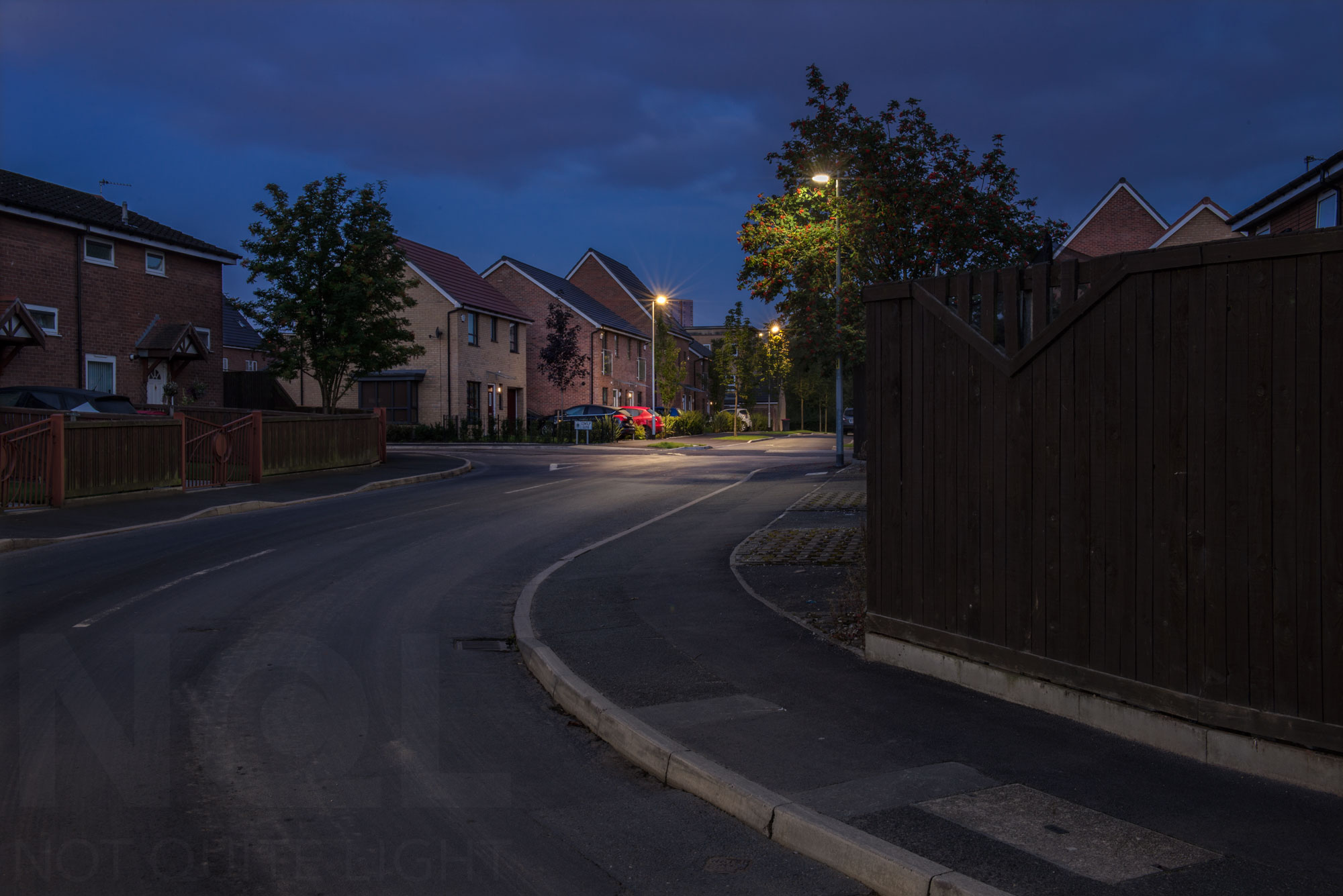 Darkness was still present as I advanced into the centre of the bridge, a faint gush from the nearby weir the only sound. Looking north along the tar black water, in the direction of the unseen curve back towards Manchester, I felt exhilarated, as if I'd found a hidden room in my nana's house. A young woman came onto the bridge, momentarily fearing my dissonant presence as I gazed into the darkened depths at dawn. She passed over into the bordering estate which, until the clouded sky began to tear, provided the only light.
A heron swooped down from above and landed in the current, the water only coming up to its knees, which surprised me. It hawked a cry tinged with malice, and flew off over the rooftops. As the night ebbed, so more people emerged, walking as if they were extras in a musical about Lowry, their heads bowed and shoulders slumped. Warming lights were being switched on, glowing through the bankside trees, indicating days were starting. Inside conformist houses, kettles were being filled, decisions being made in front of wardrobe mirrors, days at work being quietly cursed. The Irwell began to reflect the world either side of it. I wondered if the locals valued this ancient waterway, or feared it in case it again entered their homes. In this moment, I hoped that they would love it as much as I did.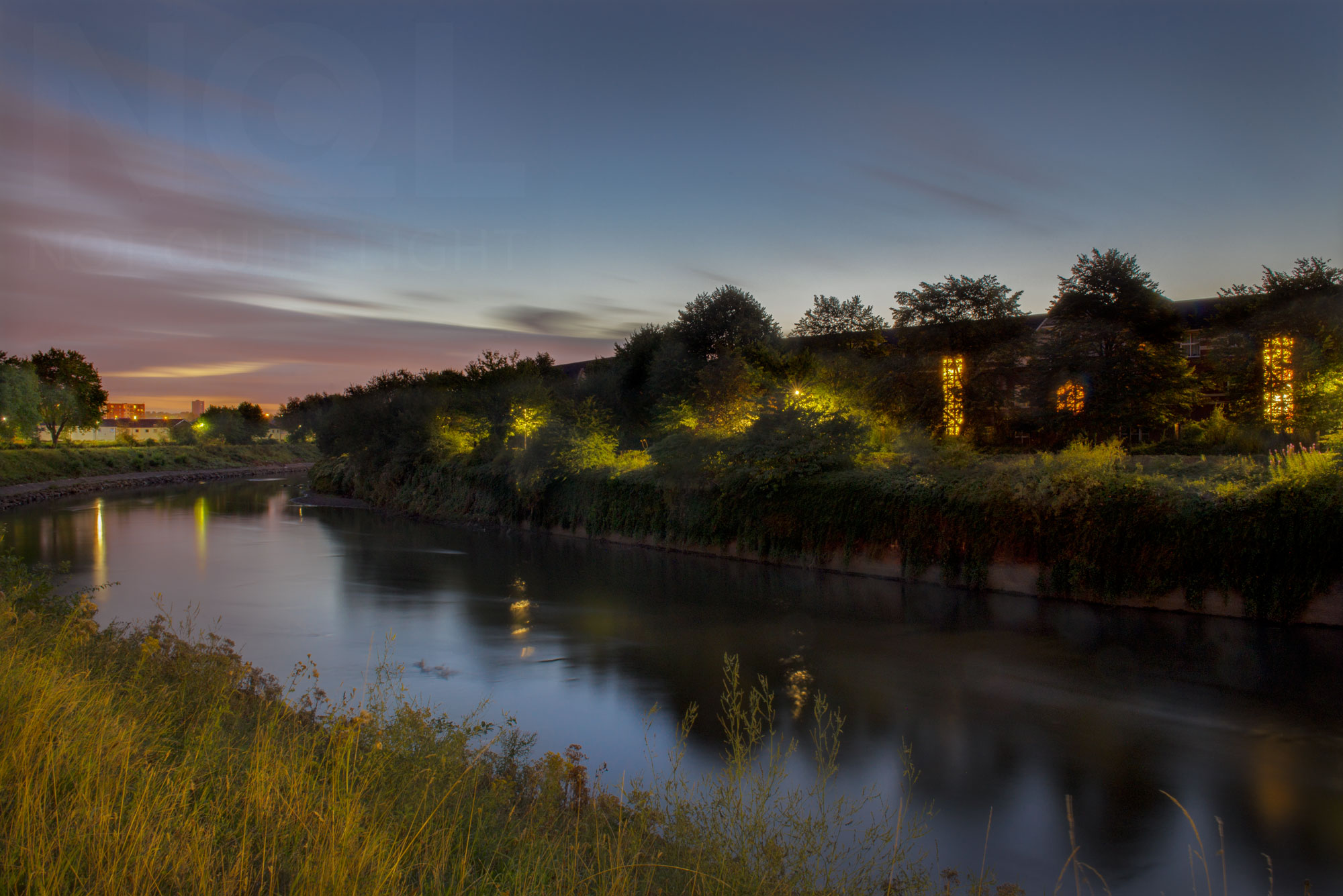 TO BUY LIMITED EDITION PRINTS CLICK HERE
COPYRIGHT BELONGS TO SIMON BUCKLEY PHOTOGRAPHER. NOT TO BE USED FOR COMMERCIAL GAIN OR TO BE PRINTED. ALL USEAGE MUST BE ACKNOWLEDGED.