SILK STREET, 6.23AM
There's an area just off Bury New Road that I've wanted to photograph for a while. It's a place still of the old city, where mixed Mancunians chance their lives on numerous ventures, trading goods of varying quality and legality from around the world. As the streets lead away from the main road there is a sense of decay, and clustered rubbish sullies the paths and kerbs, as if a great tide has swept in, depositing the detritus that had, at sometime, been cast aside on distant seas.
When I arrived at 5AM, the surrounding shutters were still locked down, and there was an eerie stillness. Not even the branches in the trees moved. Isolated figures walked quickly by, hands pushed in pockets, and their eyes fixed on their feet rather than the bright, guiding moon that shone down on them. Steadfast Victorian buildings darkened the streets with blocks of shadow, and a heron shrieked from the nearby Irwell, haunting the Autumnal air. I didn't feel safe here and, for the first time since I started Not Quite Light, I felt displaced, as if I shouldn't be where I was.
And a few minutes after I'd begun photographing, a young man buzzed by me on a moped, staring fixedly at the camera from under a white, domed helmet. He circled the streets several times, always returning to where I was, and looking straight at me with each pass. At one point he made off towards Strangeways, apparently going somewhere else, before doing a U-turn and returning to my location. Instinct took over and I bundled my possessions into the car, before hurriedly departing. It felt ignominious.
Whilst on the move, I glanced up and saw the familiar blue tear in the greyed clouds, indicating that sunrise had begun, and that my limited time was being used merely to escape to new ground. I hastened along quiet roads and fetched up on Silk Street, where, under an open sky, a vast wasteland lay readied for imminent regeneration. With no buildings around me, I could clearly see the oncoming dawn. A grand, distant edifice, born of the international trade in goods that once sustained this city, now had Portakabins up to its midriff, staffed by people supervising the construction of luxury apartments across the way.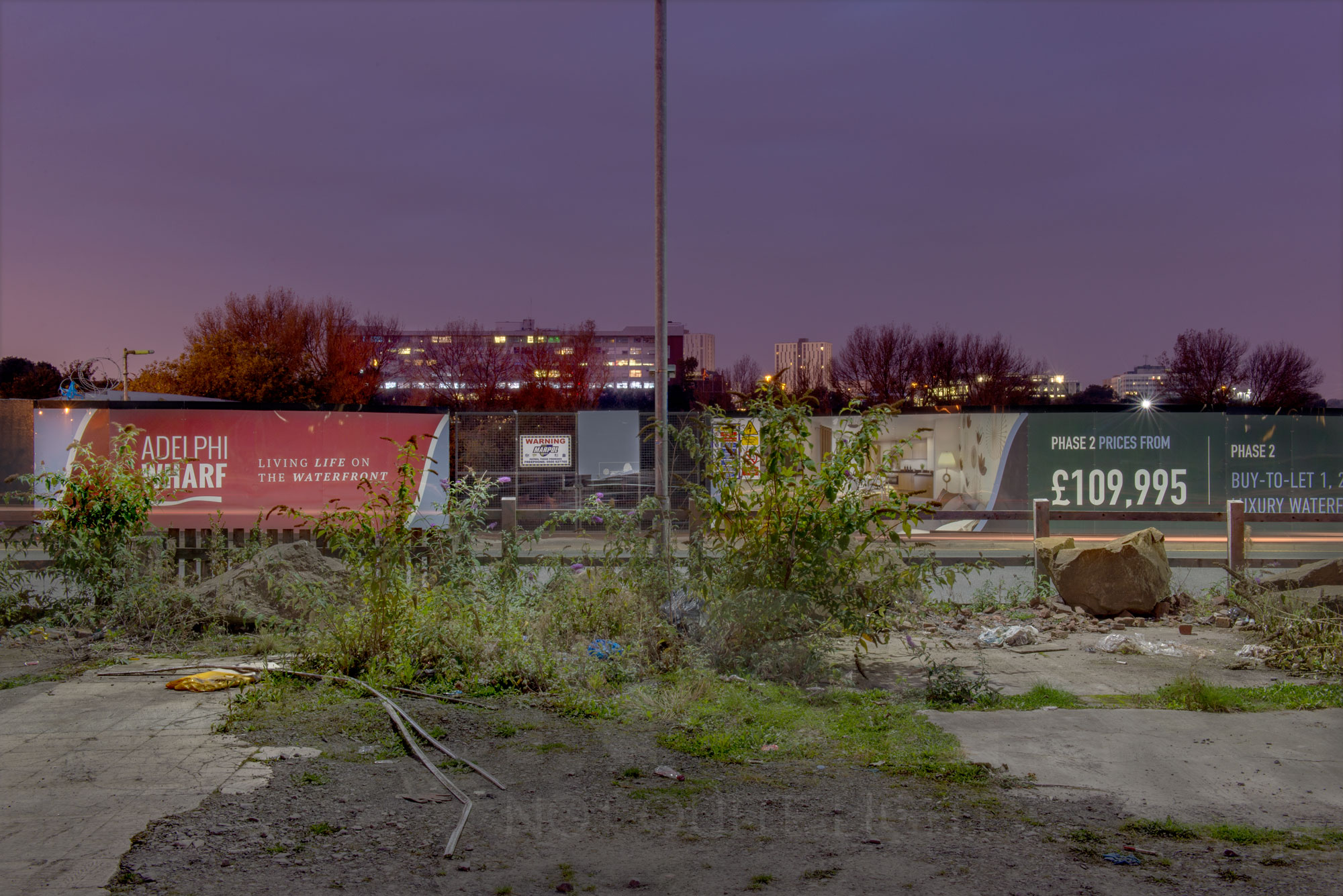 Cars began to arrive. Oddly they parked away from each other, like people do when they find seats in an A&E department. Headlights stayed on, as if indicating the arrival to a hidden power but, eventually, workers emerged and walked towards each other. I struggled to hear their voices as raucous, cawing crows swirled overhead, but thought that I could make out accents from more than one country.
As the beauty of the pitchy light diminished, I left the builders and stepped onto a side street. A young woman in a shiny red car pulled up and asked if I knew where Adelphi House was. I told her where it was, but she clearly wasn't able to take in my directions. Perhaps it was the way I gave them? She just gazed through her windscreen at the boards advertising the flats. I stopped talking, which caused her to look up at me.
"I'm early, so I have time to get lost" she said, and drove off, turning left instead of right. As I watched her go the wrong way, a rat ran across my path and disappeared into the cobbled streets behind the cathedral, where, like a beacon, one orange streetlamp remained stubbornly lit.
TO BUY LIMITED EDITION PRINTS CLICK HERE
COPYRIGHT BELONGS TO SIMON BUCKLEY PHOTOGRAPHER. NOT TO BE USED FOR COMMERCIAL GAIN OR TO BE PRINTED. ALL USEAGE MUST BE ACKNOWLEDGED.